Today we are here for sharing some valuable information about Erie insurance company. If you are searching Erie Insurance company phone number, address and ratings reviews then must read this article.
What is Erie Insurance ?
Erie insurance is a company based in Erie , Pennsylvania. It was co-founded on April 20, 1925 by H.O. Hirt and O.G. Crawford providing property , casualty and life insurances.
Where is Erie Insurance located?
Erie insurance has it's headquarters in Erie city of Pennsylvania. With 13,000 licensed independent insurance agents at more than 2,200 agencies located in 12 states of US and the District of Columbia.
Must read : Car insurance Types and Claim Process
Erie Insurance Company Phone Number
ERIE insurance company phone number and auto, home, life and business insurance. For customer service, call 800-458-0811 .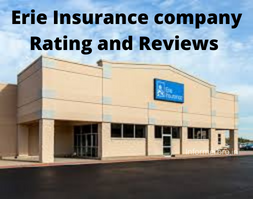 What does the company's logo include?
Erie Insurance corporate mark includes the company's name with a graphic of the cupola from the H.O. Hirt Building located in Erie, Pennsylvania. This design was introduced in the '90s, and updated in 2005.
Notable dates in the company's history include
The company was started in the year 1925, and it's first office outside Erie was started in the year 1928 in Pittsburgh. Later in 1940 the company started fire insurance policies, comprehensive Liability coverage became available in 1943.
The first branch outside Pennsylvania was opened in the year 1953 in Silver Spring, Md. Introduction of the Pioneer HomeProtector program took place in 1961 followed by the introduction of Pioneer Business Protector Policy in the year 1963. The Erie Family Life Insurance company was founded in the year 1967 whereas the Company was listed as Erie in NASDAQ in the year 1995. The company got listed on the Fourtune 500 list in the year 2003. The technical learning centre and the Thomas B. Hagen building started in the year 2015 and 2021 respectively. Erie Insurance Company Phone Number
What Companies are included under Erie Insurance ?
Company subsidiaries include:
Erie Insurance Property & Casualty Company
Flagship City Insurance company
Erie Insurance company
Erie Insurance company of New York
Erie Family Life Insurance
Ceo's of Erie insurance company
1. H.O. Hirt 1925 – 1976
2. F.W. Hirt 1976 – 1990
3. Thomas B. Hagen 1990 – 1993
4. John M. Petersen 1993 – 1996
5. Stephen A. Milne 1996 – 2002
6. Jeffrey A. Ludrof 2002 – 2007
7. J. Brinling Jr. (interim) 2007 – 2008
8.Terrence W. Cavanaugh 2008 – 2016
9.Timothy G. NeCastro 2016 – Present
Sales of the company
Erie Insurance sells its products exclusively through a network of more than 2,200 independent agencies with more than 13,000 licensed agents. In a February 2013 interview with the Erie Times-News, CEO Terry Cavanaugh reaffirmed the company's commitment to this distribution channel while acknowledging the importance of also enabling customers to pay bills and file claims online.
Is Erie a good company?
The company was founded by two partners as Erie Insurance Exchange. Initially, the company sold only auto insurance, but it later expanded to other types of insurance and added offices in other states. Alongwith homeowners policies, Erie now sells insurance for autos, motorcycles, boats, and recreational vehicles, as well as life insurance, retirement planning, and an array of business products.
It also sells specialized insurance for condo owners, mobile homeowners, and renters.It is No. 8 in our Best Homeowners Insurance Companies of 2022 rating and is on the top in our list of the Cheapest Homeowners Insurance Companies of 2022 with a sample cost of under $100 a month.
It is one of only three companies in our ratings to have replacement-cost as standard. Additionally, Erie has a number of other discounts that can drive the price down further. These include multi-policy discounts and a break if you shop for your new insurance before your old one expires.Erie has a wide selection of add-on coverages, including one for home-sharing, identity recovery, and a criminal defense reimbursement up to $25,000.
Erie also includes a number of other less common coverages in its base insurance which includes lost or misplaced items, gift card coverage, and higher coverage for hard to replace items such as passports, deeds, and bills. However, it only offers homeowners insurance in 14 states, out of which most of them are on the East coast. Insurance quotes can't be obtained online, you have to contact a local agent.
Erie does have a smartphone app where you can manage your policies, make payments, track claims, and find your agents' contact details.
What are the Pros and Cons of the company?
Pros:
Least expensive coverage in our ratings.
Offers true-replacement cost as standard.
Add-on coverage bundles.
Cons:
No online quotes.
Agent only sales model.
Coverage limited to 14 states
Ranking based on the U.S. news ratings
Erie Insurance is ranked?
Ranked #8 in Best Homeowners Insurance Company of 2022.
Ranked #1 in Most Affordable Homeowners Insurance of 2022.
Awards and recognitions won by the company
In the year 2003, the Insurance company made its debut on the Fortune 500 list. It's current ranking being at number 368.In the year 2017.

the company earned the ACE (Achievement in Customer Excellence) Award in the Voice of the Customer category for claims service for the second consecutive year.

In the year 2018, it became Erie County, Pennsylvania's largest employer with more than 2,800 employees that were Erie based who belonged to the local areas.
Since 2013, Black EOE Journal and Hispanic Network Magazine have awarded Erie Insurance as the top insurance company.
Erie Insurance received a score of 100 percent on the 2017 Corporate Equality Index, a national benchmark on corporate policies and practices related to LGBT workplace equality.
In the year 2018, Erie Insurance Group was named to Ward's 50 top-performing property-casualty insurers. Erie Insurance has made the Ward's 50 list since 1991.Ward's 50 ranks property-casualty insurance companies based on their financial safety, consistency, and performance over a five-year period. The analysis is done on nearly 3,000 property-casualty insurers and 1,407 life-health insurers, out of which, Ward's 50 picks the top 50 U.S. based carriers. The company has also earned A.M. Best's rating of A+ (Superior). Erie Family Life Insurance Company has earned A.M. Best's rating of A (Excellent). A.M. Best is a respected provider of financial ratings for insurance organizations.
In February 2020, Forbes recognized Erie Insurance as one of the best employers for diversity.
Sponsorship's of the company
In May 2012, it was announced that the company had purchased the naming rights to Tullio Arena in downtown Erie insurance area.
The arena was subsequently renamed Erie Insurance Arena.In 2018, the insurance company became the title sponsor of Roar on the Shore motorcycle rally, which is no longer running.
Quick links